Address:
26 Bonza View, Kalorama VIC 3766, Mt. Dandenong (near Olinda)
Property Setting:
Located on the north west face of Mt Dandenong, 5 minutes to the summit or to the village of Olinda.
Download local information (pdf)
Hours / kms from Melbourne:
50 mins / 45km (Melway map 52 H9)
Hosts:
Jordan and Vivian Carter
+613 9728 8887
By car from Melbourne city:
By car from Melbourne airport:
By public transport from Melbourne:
Flinders Street Railway Station
Fares: Zone(s) 1, 2 Metcard
Take the train towards Lilydale
PTV journey planner
Local restaurants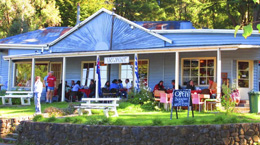 Kellys Bar has every night something different.

The Piggery is Shannon Bennetts (View du Monde) new venture Shannon Bennett's Piggery Café and Burnham Bakery Day only. 5 Star Restaurant opening soon.
Miss Marples everyone's favourite. Old English. Day only.
Ripe. Great lunches. Day only.
Woods, Wild Oak, Copperfields, Sky High. Intimate Restaurants.
Telephone and order food to be delivered.
Restaurants List
Local parks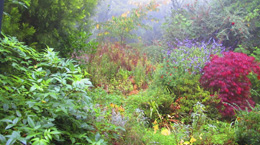 All parks have free entry.
Walking trail maps provided in rooms.